Trash Out & Maid Services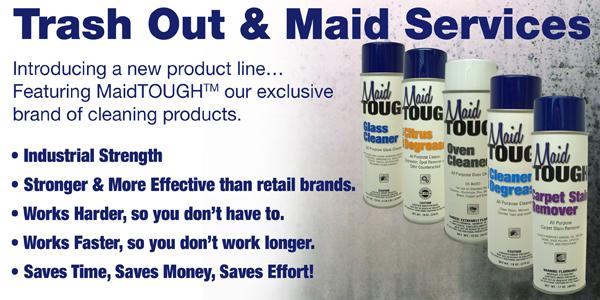 Introducing the All-new Trash Out & Maid Services product line. Now MFS Supply offers you everything you need to complete your jobs on time and within budget. With our new line of Maid cleaning supplies, we're excited to introduce MaidTOUGH, our exclusive line of cleaning supplies. MaidTOUGH products are all industrial strength cleaning products. MaidTOUGH includes Glass Cleaner, Oven Cleaner, Heavy-duty Citrus Degreaser, Carpet Stain Remover, and a Multi-purpose Surface Cleaner.



Also, we offer a whole range of other products that include: Graffiti Remover, Dymon Do-it-all Disinfectant, Kaboom Foan-Tastic, Odor Out Carpet Deodorizer, Polywood Duster, Premiere scrub pads, Pumie Scouring pads, Unisan Toilet Bowl Mops, and much more!
Featured Items