Lock Boxes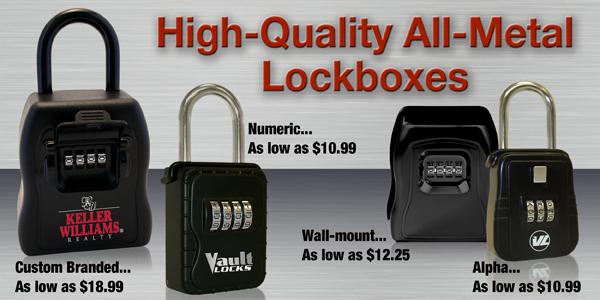 Who needs a key lock box? Real estate agents are the biggest fans of lock boxes, but homeowners are learning the benefits as well. A real estate key box provides easy property access to potential buyers and their agents. The listing agent simply tells other interested real estate agents the combination to the key lock box (easily changed by the realtor at any time), and they'll have access to the door key stashed inside. Also, anyone who has ever locked himself out of his home can certainly appreciate the peace of mind a real estate key box provides. Lockboxes are hung the on your doorknob, or mount the key box out of sight, to prevent future accidental lockouts.
A reliable key box is a smart choice and Real estate agents will tell you it's one of the easiest things you can do for convenience and freedom from worry. The exact type of lockbox that real estate agents and homeowners choose depends on individual needs, but with our line of Vault Locks you'll find years of secure, dependable service...it has to, because your property's security rides on them.
They're the perfect way to control access to multiple keys, key cards and other items. Additionally

the combination is easily interchangeable providing an added level of safety and security. With our wide assortment of affordable quality lock boxes the choice is simple- MFSsupply.com.
Alpha lock boxes use letters rather than numbers as their lock box combination code. Each alpha key box uses 3-letter codes that are easily changed by you at any time, and cover all the popular industry-used alpha lock box combination codes.

Our numeric lock boxes use 4-digit numeric combinations to give thousands of unique, easy-to-remember codes to choose from; change the code whenever you'd like. Each heavy-duty, metal numeric key lock box is built tough to withstand attempted forced entry.

Mounted next to an entry door or nearby wall outside your home, a wall mounted lock box will make sure you're never accidentally locked out. Make this steel wall lock box a permanent fixture outside your home and rest assured there's always a key available.

Why purchase a lockbox with someone else's branding on it, when you could have your own.

Only at MFS Supply can you get a lockbox that includes your company branding. If you don't see your company listed, simply call to inquire about how you can get your branding on all of your lockboxes.

Now get the Vault Locks 5000 & 5500 PERSONALIZED with your information. No Mininum Orders. No Setup Fees. Full Color. Quick Turn-around.